About PFS Sales Co.
PFS Sales Company was founded in Raleigh, NC in 1988. For over 30 years, we have specialized in delivering top-quality disposable paper products, plastic products, and more to clients throughout North Carolina while also providing a level of customer service that is unmatched in our field.
Delivering Disposable Paper & Plastic Products to NC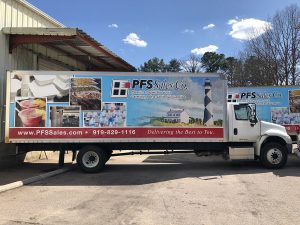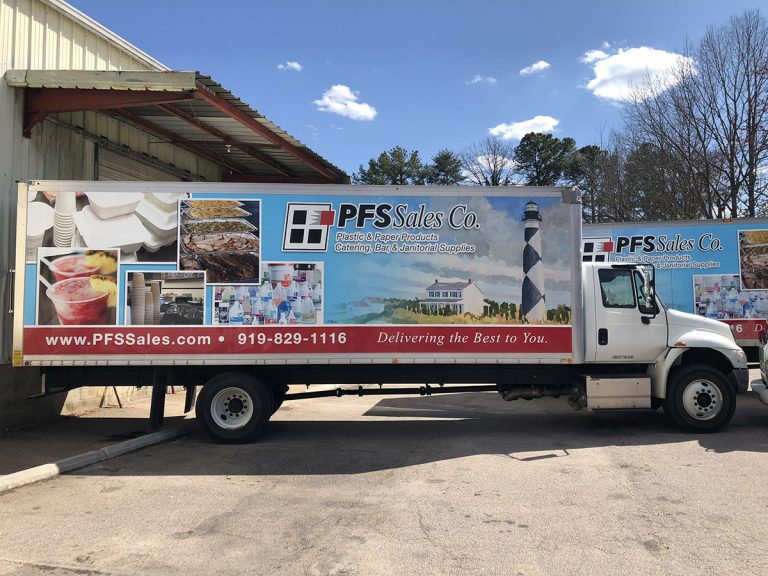 At PFS Sales, our emphasis on personalized service is what sets us apart from our competition. Our customers tell us that they like doing business with us, and they generally stay with us for many years for a number of reasons, including:
Outstanding Fill Rates: Hovering at 99.43% in Recent Years
Close, Personal Attention
A Broad Selection of Consistently High-Quality Products
Incomparable Service
Our Commitment to Serving All Customers with Fairness and Integrity: We Would Rather Shortchange Ourselves than Risk Hurting a Customer!
We strive to build personal relationships with all of our customers so we can provide truly custom-tailored services. The goal is to make your experience with us as easy as possible, from before the sale, during delivery, and onto billing and beyond. To us, our customers are more than just sales figures—they're our partners. When you choose PFS Sales, we go out of our way to ensure that you're met with several options, our great customer service, and the level of reliability we've become known for.
Have a question about a product or service? Simply call us, and our experts can both help you identify new products that can help you or help you learn about any product you're interested in, as well as advise how any new item you're considering will fit into your business.
Here are a few examples of the kind of service you can expect from us:
Savings from Proper Product Selections: Based on Your Specific Needs
Consultation and Advice to Identify and Solve Problems to Help You Save Money
Trouble-Free Pickup of Returns and Timely Credits
Reliable Accounting Practices
Next-Day Delivery on Orders Received by 4:30 p.m.
Easy Ordering: in Person, by Phone, Fax, or Online through Our Website
Award-Winning Product Distribution & Customer Service
At PFS Sales, we are proud to be a member of The United Group (TUG), a buying association of over 350 independent distributors in our industry. Being a part of TUG allows us to utilize the combined purchasing power of the entire organization, and previously, we had been named their Distributor of the Year. What does this mean for you? WAY lower prices for you and a much wider product selection.
PFS Sales offers a broad variety of name-brand and "house" brand products, with over 3,000 items in stock to ensure we always have exactly what you need. Plus, we own our own trucks, which allows us to deliver your order quickly, exactly when and where you want it.
When it comes to our sales team, our staff is composed of the most experienced & knowledgeable people in our industry. With decades of expertise, we have the knowledge to help you choose exactly the right products for your business within your budget while upholding our old-fashioned values of fairness, honesty, and integrity.
We believe that learning about your needs allows us to better serve you now and in the long run, which is why when you call one of our reps, you can guarantee that we will take the time to do so. Together, we'll create a custom plan to take your business to the next level with our catalog of products as well as learn how often you need your supplies delivered and when they'll need to be in your possession.
Go Green with Compostable, Biodegradable, Sustainable Disposable Products
Interested in making the planet a better place to live? PFS Sales is dedicated to doing our part for the environment, so can even help your business go green! Whether you are seeking to use compostable, biodegradable, or sustainable disposable items, or if you would like to utilize earth-friendly janitorial cleaning supplies, we are your source for environmentally-conscious products. Each member of our Sales Team is fully trained in knowledge of our green items, and they will happily help you choose the right products to suit your business's values and budget.
In one call, we can be on the way to helping you make your business more environmentally responsible. By talking with our experts, you can easily lower your impact while increasing your service quality.
Call us today at 919-829-1116 or 800-445-5219 for more information or to discover how we can meet your business's exact disposable paper and plastic product needs!
PFS Sales Company is a premier distributor of high-quality, affordable disposable paper products, plastic products, and more providing unmatched customer service to customers throughout North Carolina.